Background: This farming group wished to release capital tied up in their land. To maximise the value, they instructed SCL Water and Cox drilling to locate and drill for water. In the absence of any electricity to the land it was decided to install a solar powered water pumping solution.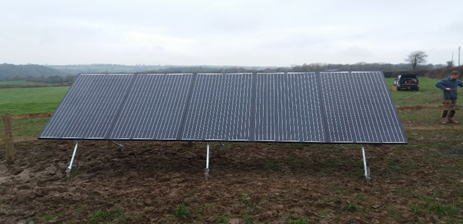 A solar powered water supply
Water was located at a depth of 60 meters and SCL Water used a computer model to specify a suitable solar pump with 5 panels.
SCL Water were the main contractor and who installed the pumping system but they were ably helped by Project Off Grid with the installation of the solar panels and frames.
Time was of the essence and being February, the weather conditions were appalling. However, the Grundfos positive displacement pump worked perfectly pumping water to a tank. Once the tank was full the float switch, installed in the tank and linked to the Grundfos CU200 control box, stopped the pump. A Grundfos IO101 switch-over box was also installed as a back-up. This allowed the pump to be connected to a single-phase generator if required.
Result
The fields are now supplied by borehole water pumped to the surface by a Solar powered water pumping system. No batteries are required and a generator is only needed in the case of an emergency. The generator remains unused.
The farmer has maximised the value of his land and the new owner has that critical water supply they need.
---
We are happy to discuss your requirements with you.
For expert advice call or email us.
Tel: +44 (0) 1769 575990 Mobile: +44 (0) 7792 664930
Email: info@sclwater.co.uk